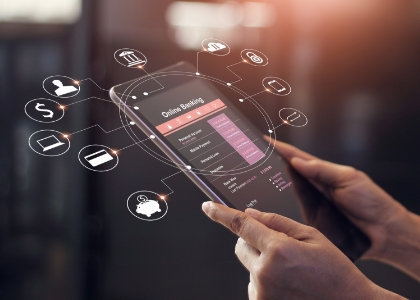 Increase Customer Satisfaction with Personalized Digital CX Banking Solutions
Personalized Digital Solutions + Seamless Customer Experiences = Higher CSAT, FCR and NPS

How to convert transactional interactions to long-term customer satisfaction in BFSI
Here at Alorica—a global Customer Experience (CX) provider—I lead the efforts in engaging some of the most reputable financial institutions in the world to offer our customer support services as an extension of their business. One great question I get asked often from financial services executives is—how should they integrate 'digital' in a meaningful way to earn customers' satisfaction, trust and long-term business? The reality is consumers expect personalized service from the companies they do business with. And while for some industries, like retail, that's innately part of every brand's identity; for others, like the banking, financial services, and insurance sector (BFSI), giving customers the digital experiences they want isn't so simple. Here are some of BFSI's challenges and the best ways to solve for them.
Make It Personal
Consumers, particularly in the wake of the pandemic, have grown accustomed to personalized services and access through a variety of different channels, elevating expectations for BFSI companies exponentially. Customers want to feel like their financial institutions know them—especially since they have access to some of their most sensitive information. For many large institutions, the servicing options across product types are still siloed and that can cause additional frustration. As a personal example, when I tried to open a savings account through the bank where I already have a credit card, the customer service department could not pull up my existing information because their systems were not integrated. This made me feel undervalued as their customer and irritated about unnecessarily having to provide basic information. Customized CX solutions, built on a solid foundation of big data analytics and AI/ML, along with system integration, can help create tailored product recommendations, savings plans, and other banking services to move brands beyond impersonal or generalized interactions. As Boston Consulting Group shared: "Ultimately, if done well, personalization at scale can provide a direct route to lower rates of customer churn and higher sales. Conservatively speaking, it can lead to annual revenue uplifts of 10% for banks."
Give Them Options
In a banking research report released by Genesys and FT Longitude, financial institutions recognized as customer experience leaders are twice as likely to be available on the channel customers want when they want it (49% versus 25%). But while automation technology can often deliver more rapid responses, the need to keep customer information confidential has made fully embracing automation technology challenging for BFSI companies. Telephone support still outpaces digital channel adoption; and when customers have to use multiple channels to complete transactions, it can lead to even more frustration and a lower quality experience. There are times that the customer will want face-to-face interaction with their bank to talk through a significant investment and/or a challenging situation. The customer will want to be heard, discuss their options, and ask questions live with the expectation that a professional bank employee will guide them through the process. That's why balance and optionality are key.
Self-service options can inadvertently add complexity to what customers expect to be a simple process. Omnichannel solutions, enhanced self-service options, improved functionality across digital channels, and 24/7 live support can help reduce the friction, streamline disparate outcomes, and make digital options easier for everyone.
Partnerships You Can Bank On
As pointed out in McKinsey & Company's 2022 article: "for many [banks], a key struggle is that customer information is housed in different ways across the business and stove piped within functions, preventing the bank from gaining a complete view of the customer," but by partnering with a CX expert who knows how to deliver the right blend of people, processes, and technology, customers can get the personal experiences they want from the BFSI brands they do business with. Whether it's adding automation technology with a human touch that can support multiple product types or creating seamless omnichannel experiences, an experienced partner with scale, security, compliance, and digital solutions built in, can ensure optimal digital CX at every interaction.
Because ultimately, when customers feel like they are understood, and they can trust us—especially with their finances— their financial institution's wallet share grows. A strategic CX partner who knows how to deliver people-first, flexible and secure solutions at scale across industries makes all the difference in earning LTV.
Thank you for filling out our form.
By creating an account to access our gated information, you agree that you may receive communications from Alorica Inc., including its affiliates and subsidiaries, such as newsletters, special offers, and account reminders and updates. You also understand that you can remove yourself from these communications by clicking the "Unsubscribe" link in the footer of the actual email.