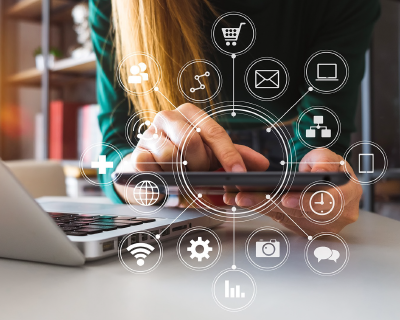 Rethink Trust & Safety
As America was lurching towards economic instability earlier this year, Everest Group analysts published Rethinking Trust and Safety: Six Strategies for Enterprises to Convert the Recession into an Opportunity, a series of recommendations to help companies navigate uncertain times.
Their recommendations included multiple areas in Alorica's wheelhouse, including:
Considering outsourcing as an option. As Everest Group's analysts observed, outsourcing is more cost-effective for companies no matter the economic climate. Outsourcing Trust & Safety initiatives, including content moderation and content management, empowers multi-dimensional, multilingual content moderation at scale—something we, as a veteran BPO industry leader, can easily attest to. As we've found, by acting as an extension of a client's business, we've been able to provide seamless support while improving the customer experience without incurring risks for our clients. 
Identify the most viable shoring mix. Going offshore (and nearshore) for Trust & Safety efforts makes dollars and sense per Everest Group's analysis. As they note, even large tech firms have been shifting their content management and related needs to cost-effective locations in APAC and LATAM. In our experience, by leveraging our global workforce and delivery models, including work-at-home, hybrid, and gig workforce solutions, clients can empower safe spaces online, as well as maximize ROI in any economic climate.
Leverage alternative talent models for non-sensitive work types within Trust & Safety. Having a diverse workforce mix makes content moderation and other Trust & Safety initiatives manageable; and, as Everest Group rightly notes, hybrid workforces featuring full-time and gig workers have become increasingly common in the post-Covid-19 landscape. Outsourcing optimized, global workforces like Alorica's empowers companies to safeguard online communities with ease; we also invest heavily in our employee wellbeing to ensure that our talent is always up to the task.
Adopt a pragmatic approach to digital investments. Large technology firms often partner with third-party service providers to leverage their talent pools and harness new technologies. Outsourcing, as Everest Group illustrates, makes it possible for companies of all sizes to harness cutting-edge technologies to improve content moderation and customer support simultaneously. Alorica's clients and their customers enjoy the latest technology and optimal support without impacting their bottom lines.
But this is just the beginning, per Everest Group, because outsourcing Trust & Safety also helps reduce attrition, creates more resilient workforces, and reduces portfolio risks—all things we couldn't agree with more.
Want to Learn More?
If you've got questions about offshoring, workforce optimization, Trust & Safety, or just need great support yesterday, we've got answers.
Get in touch to find your perfect solution!
Thank you for filling out our form.
By creating an account to access our gated information, you agree that you may receive communications from Alorica Inc., including its affiliates and subsidiaries, such as newsletters, special offers, and account reminders and updates. You also understand that you can remove yourself from these communications by clicking the "Unsubscribe" link in the footer of the actual email.