I am so incredibly proud of the culture we've built—and continue to grow—at Alorica. From office celebrations to company-wide contests and recognition, taking care of our people is our #1 priority—and we work tirelessly to keep our teams engaged, inspired and connected.
It all starts with our four Core Values: Be Connected, Be Bold, Be Relentless and Be True. These tenets empower every Alorica employee, and describe how we do what we do. As a company, everything we prioritize and stand for—including the way we recognize each other's accomplishments, train new staff and measure success—closely aligns with each Value.
And by adhering to our Values, we can more effectively deliver on our Brand Promise: Passion. Performance. Possibilities. This is the pledge we make each and every day to our clients and their customers—and it's what fuels our vision of making lives better…one interaction at a time.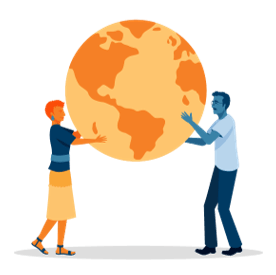 Our world-class culture is grounded in charitable giving, engaging social impact and environmental sustainability initiatives. Aloricans want more than a job—they want a purpose—and as Chief Culture Officer, I'm honored to partner with leaders across the organization and provide opportunities to such an amazing and conscientious workforce. Every culture/employee experience program we've developed allows our people to explore and grow, and enables them to connect with not only the company, but each other. Some of these programs include:
Culture Champions & Committees
Every Alorica site has its own Culture Committee—led by a Culture Champion—whose members plan on-site events and help oversee company-wide celebrations and contests.
Making Lives Better With Alorica(MLBA)
Our approach to corporate philanthropy is like none other. With 80 MLBA chapters around the world, employees have the decision-making power to choose how to make lives better through grants, fundraisers and volunteering.
Corporate Social Responsibility(CSR)
Doing the right thing, and taking care of one another, is an integral part of who we are. Alorica was built on three P's—Passion, Performance and Possibilities. But when it comes to CSR, we focus on another three: Philanthropy, People and Planet.
Game Changer
We make it a point to recognize when our people go above and beyond. Our Game Changer program is held company-wide, and celebrates and rewards top performers.
Women's Initiative
Our Women's Initiative champions amazing female Aloricans around the globe. This program provides a platform in which our Alorica community comes together to connect, support and develop our current and future leaders.
Aloricans In Action
Aloricans in Action gives us the opportunity to highlight outstanding members of our team, and celebrate the efforts of a global workforce that performs with passion and embraces all kinds of possibilities.
Alorica Academy
The Alorica Academy is a comprehensive global leadership development platform that allows our people to learn, contribute, share and grow professionally. It offers clear visibility into career development opportunities, and helps leadership identify who is ready for the next level—ensuring we maintain a strong, sustainable bench of talent.
Aloricares
It's a privilege to give back to those who have given so much. We're pleased to provide career opportunities for returning U.S. veterans and active-duty spouses.
Our passion for leading has allowed us to craft a world-class corporate culture—one that plays a critical role in identifying attrition risks and developing talent. This company is only as strong as the people behind it, and the incredible dedication of our 100,000+ employees inspires me to make Alorica an utterly awesome, insanely great place to work—day in and day out.
Thank you for filling out our form.
By creating an account to access our gated information, you agree that you may receive communications from Alorica Inc., including its affiliates and subsidiaries, such as newsletters, special offers, and account reminders and updates. You also understand that you can remove yourself from these communications by clicking the "Unsubscribe" link in the footer of the actual email.