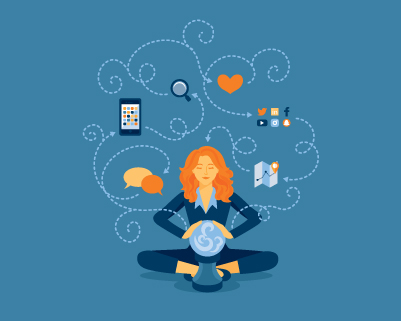 3 Ways to Find "Ohm"nichannel Nirvana
Customers making contact expect a company to wrap together all forms of communication from traditional to social. In retail, an omnichannel contact strategy provides customers with a seamless shopping experience, whether they're shopping online from a desktop or mobile device, by telephone or in a brick-and-mortar store.1
In the contact center industry, omnichannel represents a unified experience from one support channel to the next. Before reaching out to customer service, 66% of consumers explore prices online before heading to the store.2 By the time they connect with a contact center, customers expect the care representative to understand what steps they have already taken. They also expect human ability to solve their challenges better than a machine or online community; otherwise, they wouldn't be calling to begin with.
Consider your smartphone. It remembers previous searches and builds a profile for you, pushing relevant content based on your history. Customers expect the same sort of history to be available when reaching out to their favorite brands. They want to be recognized, not caught in the cycle of repeating themselves only to learn that their customer service agent either cannot solve the issue better than the app could, or worse, doesn't possess the baseline capabilities the app does. It's crucial to have a solution that brings it all together in a meaningful way that doesn't add significant length to the interaction.
Many companies are making heavy investments in customer-facing digital technology, but oftentimes, integration with the contact center software is overlooked, resulting in a multichannel solution that doesn't allow for the continuous experience of true omnichannel excellence. In many cases, multiple systems are still required to achieve one result. Without proper redesign and integration, what's left is a solution that causes more harm than good, leaving the burden on the contact center agent to resolve a complicated case.
As you create a list of what is important to you in an omnichannel tool, look at your existing infrastructure to determine if you're ready for the leap. Ask yourself the following three questions to best position yourself for success.
1. System consolidation:
How many front-end and back-end systems are contact center agents currently using to research customer accounts and case history?
If the answer is more than one, it's a good idea to consolidate the existing systems prior to integrating with digital technology. Multiple systems lead to increased customer effort and longer resolution times. Remember, the more history the front line is armed with, the more intuitive and streamlined a CRM system should be for an exceptional customer experience.
2. Multichannel platform integration:
Does your CRM platform interface well with web-based technology, and are you capturing the customer touchpoints at the self-service stage?
If the answer is no, either prioritize a facelift of the existing system or consider using a system integrator to bring the various channels together. When customers begin interacting via app, web, social media, and AI, the details of these touches must push to the front line for a cohesive experience and customer response. With important customer journey details in one platform, you can arm your care team with the necessary history for a truly robust and empowered customer experience.
3. Employee experience considerations:
Now that your most basic contacts are handled automatically, what is your strategy and budget for enhancing the more complex task skills of your front-line agents?
As employee expectations become more complex, training investments will be critical to ongoing success. Consider what concepts, such as routine system changes, can be easily adopted through online content delivery. While even the best Learning Management System will not replace the need for facilitator-led content, moving simple content to employee self-service can certainly augment the facilitator efforts. This leaves time and space for more in-depth strategy and procedural changes to be delivered live in a classroom environment.
As you pave the way for front-line employees to take on additional responsibilities, make sure your compensation and efficiency expectations align with the skill set required. The new call types will require additional expertise and research time, especially tasks previously handled by a Tier 2 agent. As skill requirements gain complexity, you will invest in agents' knowledge and adjust compensation to align accordingly with the heightened expectations and to prevent employee pool burnout. This will also ensure you are attracting the right level of talent for the job. With self-service channels resulting in reduced contact volume, the funding to provide necessary compensation adjustments should be readily available.
With awareness and attention to these crucial details for a seamless integration, you can confidently forge onward in your quest for automation. Developing a framework to address these three critical areas will help you avoid common pitfalls, leading to true omnichannel leadership. Interested in learning more? We're experts at providing a fluid omnichannel experience for several of our clients, and we'd be happy to help you find a comprehensive solution to your business needs. Click here for additional information.
SOURCES:
Thank you for filling out our form.
By creating an account to access our gated information, you agree that you may receive communications from Alorica Inc., including its affiliates and subsidiaries, such as newsletters, special offers, and account reminders and updates. You also understand that you can remove yourself from these communications by clicking the "Unsubscribe" link in the footer of the actual email.