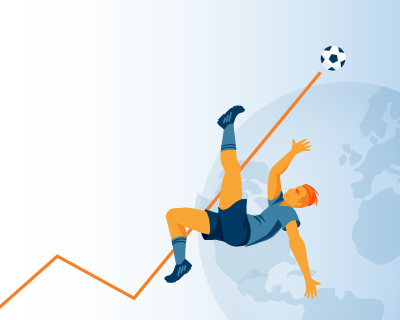 Alorica Announces $725 Million Refinancing by Cerberus Business Finance, LLC
Refinancing Enables Leading CX Provider's Globalization Strategy and Product Expansion
IRVINE, Calif., April 20, 2023—Alorica Inc. , a fast growing and trusted global leader in next-generation customer experience (CX) solutions , today announced it closed a refinancing led by Cerberus Business Finance, LLC, and its affiliates ("Cerberus"). Through a directly negotiated transaction, Alorica received a $725 million senior secured term loan, alongside an upsized $300 million ABL facility provided by a syndicate of banks. The comprehensive refinancing optimizes Alorica's financial position and growth potential through market, business, product, technology and talent investments.

The refinancing affords additional liquidity and strategic flexibility to advance growth imperatives as the company accelerates demand for its CX solutions. Since 2020, Alorica has organically grown its revenues by 23% and EBITDA by 50+%, and is continuing its expansion by adding global talent, in-market delivery, and onboarding clients across Europe, the Middle East and Africa (EMEA), India, Philippines, North America, Latin America and the Caribbean. In Q1, the digital CX provider announced launches in Łódź, Poland and Cairo, Egypt.
"As Alorica becomes an increasingly globalized company, our solutions combining world-class talent, technology and services continue to progress to meet market demand," shared Greg Haller, Chief Executive Officer of Alorica. "Having a strong financial partner in Cerberus will help us quicken our growth plan as part of our strategic journey."
"Looking forward, the future continues to be bright – the Cerberus team has a long-term view, collaborative approach, and their style makes them an ideal partner for Alorica as well as many other strong, growing organizations," said Alorica's Chief Financial Officer Max Schwendner. "We successfully completed this directly negotiated deal with Cerberus in a tough financial market, which speaks to our outstanding financial performance and outlook as we continue to transform the industry."
Alorica, known for its client-centric focus and scalable workforce, is committed to continually improving performance, global delivery and integration of future-ready technology. Its hallmark ability to combine technology and people will remain supported by its ongoing investment in next-generation services rooted in artificial intelligence and machine learning, as part of the newly formed AloricaIQ, the company's global center of excellence for design and delivery of digital solutions. These investments will further enhance the organization's hybrid operating models, including its cloud-based work-at-home offering, Alorica Anywhere.
Dan Wolf, Chief Executive Officer of Cerberus Business Finance, adds, "Alorica is an industry leader with a proven track record of excellence. This transaction emphasizes our confidence in its leadership team and our commitment to serving our clients in various economic cycles. We're very supportive of Alorica's clear vision and ability to meet the evolving needs of its customers."
---
About Alorica
Alorica creates insanely great digital customer experiences at scale. Our team of 100,000 solutionists, technologists and operators partner with global brands and disruptive innovators to deliver digitally charged, tailored interactions customers crave. With a track record of creating long-term loyalty, Alorica brings actionable insights, proven processes and CX leadership to transform clients' business needs, whether they're focused on digital optimization, customer engagement or market expansion. Through strategic partnerships with best-in-breed technology, we design, integrate, and optimize digital solutions personalized to reach clients' most desired outcomes now and for the future. Alorica drives CX innovation for the best clients around the globe from its award-winning operations in 17 countries worldwide. To learn more, visit www.alorica.com.
About Cerberus Business Finance, LLC
Cerberus Business Finance, LLC focuses on the direct origination of senior secured loans predominantly to U.S. middle-market companies across broad industry categories. It manages more than $25 billion of capital and has closed on over $50 billion in transactions in the past decade, primarily to borrowers owned by private equity sponsors. Cerberus Business Finance is an integral investment platform of Cerberus Capital Management, L.P., a global leader in alternative investing with approximately $60 billion in assets across complementary credit, private equity, and real estate strategies. For more information, visit www.cerberus.com.
Media Contact:
Sunny Yu,Alorica Inc.
[email protected]