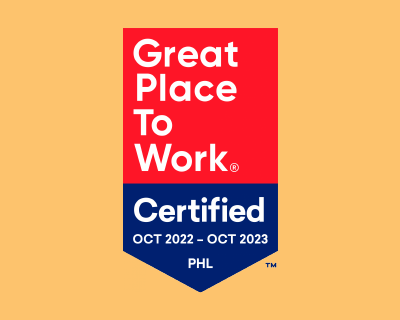 Alorica Earns Another Great Place to Work® Designation Based on Feedback from Thousands of Employees

IRVINE, Calif.— October 20, 2022, Alorica Inc., a trusted leader in next-generation customer experience (CX) solutions, today announced it has been named one of the best workplaces in the Philippines by the Great Place to Work® Institute. Companies receive Great Place to Work® certification based on the experience and sentiment of their employees in five key areas: credibility, respect, fairness, pride, and fellowship. This year, 81% of employees said Alorica Philippines is a great place to work, compared to 53% at the typical global company. This award builds on the company's first Great Place to Work® recognition in Guatemala last year.
"It's a tremendous honor to add another Great Place to Work certification across our delivery markets," said Greg Haller, Chief Executive Officer of Alorica. "For over 20 years, our unique workplace culture has been foundational to our high performance, business resiliency and transformational change. This is a testament to our talented teams who allow us to achieve operational excellence in our service delivery. The Great Place to Work certification reflects Alorica's standing as a leading global organization and gives our clients confidence that they have the best, brightest and most satisfied employees supporting their customers around the world."
At a time when the global job market is experiencing high employee dissatisfaction, turnover and burnout—along with the Great Resignation reaching new heights in the US—Alorica remains steadfast in its commitment to the employee experience through recognition programs, ongoing feedback channels, digital support tools and Corporate Social Responsibility initiatives.
"This recognition is especially meaningful because it's based on direct feedback from our employees," said Bong Borja, Chief Operating Officer at Alorica. "We take great pride in the results—90% shared that Alorica is a physically safe place to work; 88% said they are made to feel welcomed when they join and 85% feel a sense of pride in what we accomplish. Our 55,000-strong team in the Philippines contributes significantly to Alorica's success in the Asia-Pacific region—proof that our outstanding culture leads to high employee satisfaction and performance sustainable at a global level."
Great Place to Work® is the global authority on workplace culture, employee experience, and the leadership behaviors proven to deliver market-leading revenue, employee retention and increased innovation.
"Great Place to Work Certification™ isn't something that comes easily – it takes ongoing dedication to the employee experience," said Sarah Lewis-Kulin, Vice President of Global Recognition at Great Place to Work. "It's the only official recognition determined by employees' real-time reports of their company culture. Earning this designation means that Alorica Philippines is one of the best companies to work for in the country."
---
About Alorica
Alorica creates insanely great digital customer experiences at scale. Our team of 100,000 solutionists, technologists and operators partner with global brands and disruptive innovators to deliver digitally-charged; tailored interactions customers crave. With a track record of creating long-term loyalty, Alorica brings actionable insights, proven processes and CX leadership to transform clients' business needs, whether they're focused on digital optimization, customer engagement or market expansion. Through strategic partnerships with best-in-breed technology, we design, integrate and optimize digital solutions personalized to reach clients' most desired outcomes now and for the future. Alorica drives CX innovation for the best clients around the globe from its award-winning operations in 18 countries worldwide. To learn more, visit www.alorica.com.
Media Contact:
Sunny Yu
[email protected]