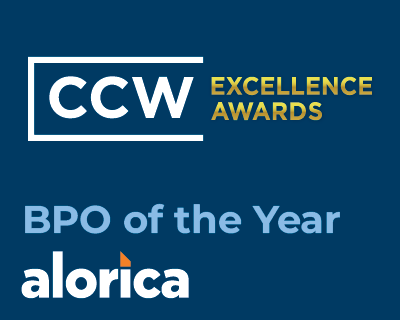 Alorica Named "BPO of the Year" at World's Largest Customer Contact Event
Global Digital Transformation Provider Wins Big by Enhancing the Customer Experience for the Best Brands on the Planet
IRVINE, Calif. – (June 26, 2019) – Celebrating 20 years in business, Alorica Inc., a global leader in customer experience solutions, was announced winner of the coveted "BPO of the Year" at the 2019 CCW Excellence Awards. This award honors the most innovative contact center solutions and global teams who have delivered results for their clients and their consumers. The awards are dedicated to recognizing world-class thinking, creativity and execution across the full spectrum of customer experience solutions.
"Our mission is to create insanely great customer experiences by hiring the best people, leveraging advanced technology, executing our proven processes and bringing thought leadership to our clients," said Greg Haller, Chief Operating Officer at Alorica. "This recognition is a testimony to our success, helping clients efficiently meet consumers' high service expectations in today's omnichannel environment."
Highlights of Alorica's win:
Becoming an Extension of a Brand – Alorica contact centers & AI solutions embrace their clients' mission and values through robust training and development delivered via client workshops - putting clients' brand philosophy at the forefront of strategies to efficiently service customer needs.
A New Way to Recruit – Alorica has developed new technologies to recruit the highest quality talent in the industry. Leveraging AI-driven screening tools, a chatbot and building on a millennial-focused brand…they offer 24/7 real-time engagement for new talent.
Bite Size Knowledge, Big Savings – Alorica uses microlearning, a teaching model integrating short, interactive videos, simulations and animations that help solve knowledge gaps. This on-demand, adaptive tool enables faster learning and deeper comprehension for Alorica's digitally-enabled workforce
Gamifying the Work Day –Alorica has initiated a gamification program to reinforce a fun and positive culture and to connect an agent's behaviors with tangible outcomes. This program has translated to more efficiency, fewer escalations, higher accuracy and greater customer satisfaction.
Alorica provides a powerful omnichannel advantage for its clients, helping to digitally transform their business and enhance the customer experience at a lower cost of service delivery. To learn more about Alorica and its vision of making lives better, one interaction at a time, visit the website or email [email protected].
About Alorica
Alorica is a global leader in customer experience solutions. We are made up of more than 100,000 passionate problem solvers who make lives better through positive customer interactions—at every touchpoint—across voice, chat and social. Leveraging innovative technologies—including intelligent automation and a comprehensive analytics suite—we support the world's most respected brands with the talent and resources necessary to create insanely great experiences. Alorica provides a host of world-class services—from customer care to financial solutions and digital services—to clients across industries of all kinds, many of whom are on the Fortune 500. Celebrating our 20th anniversary this year, Alorica contact centers and operation hubs span the globe with 130 locations in 14 countries. To learn more, visit www.Alorica.com.
About CCW
Started in 1999 as Call Center Week, CCW is the world's largest customer contact event series. With an optimized balance of conference and expo, CCW is the place where customer care, CX, and contact center leaders come together. In 2018 we introduced our new look as Customer Contact Week. CCW is brought to you by the Customer Management Practice – the Analyst, Advisor, and Industry Network for all things Customer Management.