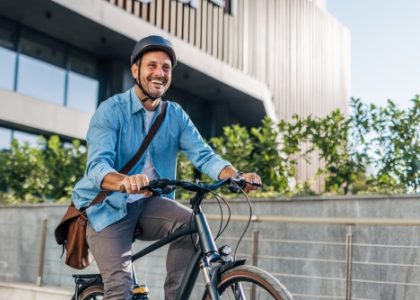 Alorica's Passion for the Planet Starts at Every Level
Focusing on sustainability is a responsibility that we all share as individuals, groups, businesses and communities. At Alorica, our approach to protecting the planet as part of our Corporate Social Responsibility (CSR) and Environmental, Social & Governance (ESG) is no different than how we advance our philanthropic and people-centered programs—we stay connected with the needs and interests of our employees and then we empower each other to make a difference where it matters most. The key is to get started from wherever you can in as many different ways as possible!
As a large employer in the people business, it's important that Alorica leads initiatives to positively impact the countries in which we operate. We focus on maintaining sustainable operations across our large-scale contact centers, whether it's by partnering with vendors that are sustainability experts in managing and recycling waste or making environmentally conscious changes to our offices. A few examples:
Transition to LED lights and energy-efficient HVAC systems
Implementation of a GREENGUARD-certified Healthy High-Performance Cleaning (HHPC) program to use green, earth-friendly cleaning products
ENERGY STAR certification by the Environmental Protection Agency (EPA) at our sites (and counting!), meaning that these buildings use less energy and cause fewer greenhouse gas emissions than their peers
Significant reduction of our carbon footprint by cutting down employees' commute and usage of environment-impacting office protocols through our work-at-home program—Alorica Anywhere
Tracking and reporting of our ESG efforts through participation in the annual Carbon Disclosure Project (CDP), which enables us to achieve our sustainability goals and align closely with our clients' objectives
But there's something else businesses can do. What we've learned at Alorica is that educating and encouraging our 115,000+ employees to also do their part makes a huge difference. Our people are passionate and they make things happen! Last year, we had nearly 44,000 employees complete our annual Sustainability Survey! Out of these participants…
81% of Aloricans shared that they commuted to work sustainably (biking, walking, carpooling)
86% used energy-efficient light bulbs
90% of employees consciously didn't print (paper) regularly for work
Not only that, but our employees chose eco-friendly projects as their teambuilding activities and as part of our 2022 Passion for the Planet contest, which led to 1,588 trees being planted and 188,000 pounds of material being recycled. We continue to measure and recognize these initiatives as well as share tips and key facts to remind our workforce that every environment-focused action counts.
So, let's continue to be intentional together. Whether it's using your own reusable water bottle, turning off lights and water when not in use, or being conscious of how much plastic/packaging is being used when you shop—our efforts matter. Remember, Earth is all we have. There is no Plan(et) B.
Thank you for filling out our form.
By creating an account to access our gated information, you agree that you may receive communications from Alorica Inc., including its affiliates and subsidiaries, such as newsletters, special offers, and account reminders and updates. You also understand that you can remove yourself from these communications by clicking the "Unsubscribe" link in the footer of the actual email.