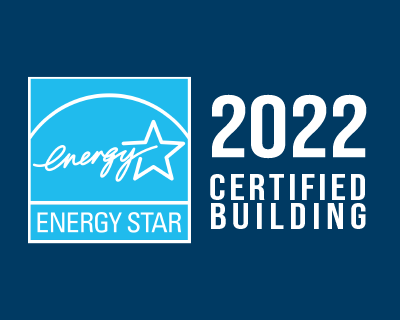 Two Alorica Buildings Earn Their First ENERGY STAR Certification, Reinforcing the Company's Commitment to Sustainable ESG Practices
IRVINE, Calif.— September 15, 2022, Alorica Inc., a trusted global provider of next-generation customer experience (CX) solutions, has announced that two of its operational sites—St., Joseph, MO and Corpus Christi, TX—have each earned their first U.S. Environmental Protection Agency's (EPA) ENERGY STAR® certification for superior energy performance. On average, ENERGY STAR-certified buildings and plants use 35 percent less energy, cause 35 percent fewer greenhouse gas emissions and are less expensive to operate than their peers—all without sacrificing performance or comfort. Over the next year, Alorica plans to certify additional sites and will perform energy audits at several of their buildings to ensure ongoing compliance and achievement of targets.
Alorica's building in St. Joseph received an ENERGY STAR score of 83, making it the most efficient Alorica building in North America. In April 2022, St. Joseph completed its light emitting diode (LED) retrofit project, resulting in annual electrical savings of $50,000 and energy reduction of 515,000 kWh, an equivalent to CO2 emissions from 41,068 gallons of gas consumed. Alorica's Corpus Christi site received an ENERGY STAR score of 80, thanks to its installation of LED lighting and energy-efficient HVAC units.
"I'm extremely proud of this recognition as we expand our presence in North America," said Jay King, President of Alorica's North America Operations. "It represents our company-wide commitment to sustainability as part of our ESG initiatives. I applaud our energy management team for their continued focus on ensuring efficient operations that conserve energy while reducing costs. Taking care of one another and prioritizing sustainability efforts are equally important, and this is just one of the ways we show our dedication to our people and communities, both today and for future generations."
"Improving the energy efficiency of our nation's buildings is critical to protecting our environment," said Cindy Jacobs, Chief of the ENERGY STAR Commercial & Industrial Branch. "From the boiler room to the board room, organizations are leading the way by making their buildings more efficient and earning EPA's ENERGY STAR certification."
Alorica's ESG approach (also known as CSR) is categorized under three pillars—Philanthropy, People and Planet. The Planet pillar focuses on sustainability and reducing carbon footprint and waste. Alorica prohibits practices that harm ecosystems and is always looking for ways to minimize the use of natural resources, while maintaining recycling programs around the world. Since 2019, the company experienced a total reduction of over 30 million kWh throughout the region due to a decrease in heating, cooling and electricity consumption. Additionally, it expanded its robust Work-at-Home program, Alorica Anywhere, to further minimize impact on the environment by significantly reducing work commutes and the usage of office supplies globally. Alorica also continues to partner with specialized vendors to properly recycle e-waste. Since 2021, the company recycled 90 tons of waste through 19 of its sites and implemented a comprehensive GREENGUARD-certified Healthy High-Performance Cleaning (HHPC) program to commit to using green, earth-friendly cleaning products. To learn more about Alorica's commitment, visit www.alorica.com/corporate-social-responsibility.


ENERGY STAR Certification
For more than 20 years, the US Environmental Protection Agency's ENERGY STAR program has identified the most energy-efficient products, buildings, plants, and new homes—all based on the latest government-backed standards. The program was created in 1992 to help businesses and individuals save energy and fight climate change. Today, every ENERGY STAR label is verified by a rigorous third-party certification process. ENERGY STAR certified buildings and plants are verified to perform in the top 25 percent of buildings nationwide, based on weather-normalized source energy use that considers occupancy, hours of operation, and other key metrics. ENERGY STAR is the only energy efficiency certification in the United States that is based on actual, verified energy performance. To date, tens of thousands of buildings and plants across all fifty states have earned the ENERGY STAR. For more information about ENERGY STAR for Buildings and Plants, visit www.energystar.gov/buildings.
---
About Alorica
Alorica creates insanely great digital customer experiences at scale. Our team of 100,000 solutionists, technologists and operators partner with global brands and disruptive innovators to deliver digitally charged, tailored interactions customers crave. With a track record of creating long-term loyalty, Alorica brings actionable insights, proven processes and CX leadership to transform clients' business needs, whether they're focused on digital optimization, customer engagement or market expansion. Through strategic partnerships with best-in-breed technology, we design, integrate, and optimize digital solutions personalized to reach clients' most desired outcomes now and for the future. Alorica drives CX innovation for the best clients around the globe from its award-winning operations in 16 countries worldwide. To learn more, visit www.alorica.com.
Contact:
Sunny Yu
[email protected]