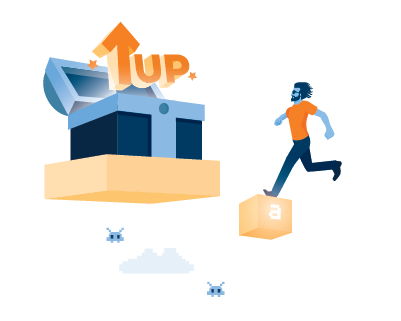 Level Up Gamer Loyalty in a Digital-First Experience Economy
There are many ingredients a video game company can draw on to generate sustainable user growth. From discounts & online events to patches and expansion packs, game developers, publishers, and the cloud platform providers leverage all sorts of campaigns that entice players to stay plugged in and eager to invite friends and family to join the fun. One underappreciated element that gaming companies can tap into for community building—and brand loyalty—is customer support, which has taken on greater importance in the past year due to the huge influx of new gamers.
The current gaming boom is not exactly unique. The industry has seen explosive growth in the past, with eight generations of consoles recruiting a whole new crop of hardcore and casual gamers. The difference this time around is that the latest surge coincides with the ascent of the digital-first experience economy. The modern-day gamer has grown accustomed to the conveniences provided by app-based food delivery ordering and the chance to ask a brand a question about a product over direct messaging on social media. They assume their bank, grocer, retailer, streamer, and game provider can and should do the same. As a result, a comprehensive player support strategy today must embrace the following objectives to ensure a resilient and profitable customer experience (CX) operation.
All-Inclusive Player Support
The gaming industry is not exactly a stranger to customer support. Since the advent of the internet, video game companies have had to resolve issues that revolve around account management, tech support, and everything in between. The gaming craze that took shape in the wake of the coronavirus pandemic only exacerbated the need for quality customer service, as lengthier queues and denser contacts became the norm in many cases. The broad range of services a modern CX team is required to offer grew by the day. The baseline now seems to comprise the basics, such as account management & payment processing, plus community moderation, knowledge management expansion, live events support, and protecting gamers against fraud.
Then there is the scale. The gaming community touches all corners of the globe, so video game companies must be able to support an international audience that speaks a wide set of languages across every time zone. Even better, support agents should have the regional know-how to allow companies to truly localize their products in every market. With global gaming revenue exceeding $180 billion and no signs of slowing down, gaming companies need to adopt robust CX services now or risk losing players to the companies that do.
Building Loyalty Outside the Game
Regardless of industry, market data consistently demonstrates that positive customer experiences are a major competitive differentiator. The challenge is that customer experiences in 2021 look a lot different than they did a decade ago. For starters, consumers have dramatically changed the way they communicate with one another. Millennials and Generation Z have jumpstarted this shift. These digital natives overwhelmingly prefer to communicate via digital messaging tools as opposed to traditional channels – and this appears to apply whether they are engaging their best friends or their favorite brands. Overall, the younger generations are more comfortable with digital channels, whether they are powered by humans or bots.
It also follows the logic that Generation Z is more open to using AI-powered chatbots because they have experience with AI applications from the games they grew up with. Deploying virtual assistants makes it easier for tech-savvy consumers to engage brands while supplying contact centers the extra bandwidth to resolve any number of issues. The point is to give consumers choice. Introducing omnichannel functionality through voice and text-based capabilities enables support teams to meet players through their favorite channels, creating positive impressions in the process. The number one goal of every developer and publisher should be that players are spending their time on game play and not support issues.
Cultivating Trust and Safety
As gaming companies continue to develop multiple revenue streams, the risk and volume of fraud, not to mention account abuse, are sure to increase. The average player today is more likely to engage brands outside the game, whether that's consuming YouTube reviews, Twitch live streams, podcast recordings, message boards, and the targeted journalism devoted to gaming. The abundance of media today has seeped into the mainstream, exposing players to content that was traditionally only seen or heard by the most serious of fans. And with consumers having a heightened awareness of privacy and security, video game companies must protect players efficiently and responsively from fraud across all channels.
Companies that provide reliable, safe environments are more likely to realize player community growth. As consumer behavior and expectations change, so too must player support. As much as game developers, publishers, and cloud platforms prioritize developing the coolest, most popular games, they also need to place emphasis on offering a modern, comprehensive customer journey that makes it easy for players to simply focus on playing their next game. Only then will they foster loyalty and expand their user base.
Visit our Gaming industry solution page to learn how Alorica can help improve your player experience both in-game and out of it with our omnichannel customer support.
Thank you for filling out our form.
By creating an account to access our gated information, you agree that you may receive communications from Alorica Inc., including its affiliates and subsidiaries, such as newsletters, special offers, and account reminders and updates. You also understand that you can remove yourself from these communications by clicking the "Unsubscribe" link in the footer of the actual email.