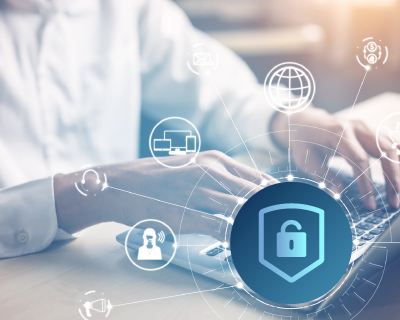 What—and Who—You Don't Know Can Hurt You
On any given day, 3.5 billion people are online1 worldwide—and considering the global population is 7.7 billion, that's a whole lot of people interacting and transacting worldwide.
Given the proliferation of mobile phones—in the United States alone, there are 106 mobile phones per 100 people—and the sustained popularity of social media websites like Facebook and Instagram, getting online has never been easier.
And that's good news and bad news for customers and corporations.
More People, More Problems
With so many people online, with multiplatform access 24/7/365, the potential for serious risk has increased exponentially. Online attacks take place every 39 seconds; and a staggering 59% of U.S. teens have been cyberbullied or threatened online2. In just the past year alone, 69% of people have experienced online risks, including cyberbullying, hate speech, and threats of violence3.
But it's not just people who are at risk—over 55% of companies reported an increase in fraud-related losses4. Companies also suffer regulatory and financial penalties from data breaches, from the 2014 data breach that cost Home Depot $179 million to Target's more recent $18.5M payout in 20175.
Social media companies have found themselves particularly liable in recent years. The FTC regularly imposes multi-million dollar fines against them…and contrary to common assumptions, Section 230 of the federal Communications Decency Act does not provide protection from being held liable for bad behaviors on their platforms6.
And it's not just steep fines (and the bad publicity that comes with them) that companies have to worry about—because with each incident, reputations suffer. Bearing in mind that approximately one in five customers would stop shopping with retailers whose data was hacked and stolen, online risks can have devastating consequences to a company's bottom line, from the largest big-box retailer to the local boutique.
Trust & Safety strategies—of which content moderation is an essential tool—can help keep company information accurate and customers safe, even in an ever-changing, crowded online landscape.
Understanding Legal and Reputational Risks (and How to Prevent Them)
With so much at stake, companies need to prioritize risk mitigation. And to effectively meet the expectations of consumers, employees, and investors, that means adopting effective risk management programs based on actionable insights.
But how can companies determine what their risks are, let alone know how to adopt formal programs that touch every aspect of their organizations?
To help guide companies towards successful risk management efforts, we hosted a webinar dedicated to assessing organizational legal and reputational risks for actionable insights, featuring Adam Dorfman, VP of Product at Reputation.com, Joe Buggy, Alorica's Head of Trust & Safety, and Harry Folloder, SVP Chief Digital Officer at Alorica.
The spirited, roundtable discussion covered a wealth of information, from explaining the nuances of assessing risk and best practices to AI's role in reputation management.
Key takeaways included:
Legal vs. reputational: As exemplified by Home Depot and Target, legal risks can include lawsuits, judgements, and financial harm; reputational risks include the erosion of trust and customer losses.
Proactive risk assessment: Companies that regularly conduct risk assessments can stay one step ahead; this means seeking out customer feedback versus waiting for negative content to flourish online. Active monitoring and listening to customers in real time builds trust and helps ensure that negative, reputation-damaging online feedback is addressed quickly and effectively.
Risk management adoption: Using frameworks helps companies decide how to approach risk management, including the total number of risks, percentage of organization affected, how have risks been mitigated historically, how many risks are monitored, and how many are mitigated. And once risks are assessed, have a process in place to help you plot and understand the scope each presents to the organization as a whole.
Best Practices: By responding quickly to customer feedback online—within 24 hours for negative feedback, and two days for positive feedback—companies show customers that they're listening to them, which positively impacts both sentiment and retention.
The role of AI: While AI can be a great tool for businesses, it also allows spam to proliferate; companies can circumvent potential risks by shifting to video testimonials, confirmed customer prioritization, or just by adding check marks to customers or purchases to add validation.
Just Do Something
Perhaps the biggest takeaway from our panel discussion was that when it comes to mitigating risks, companies can't sit on the sidelines. They must act—and act fast—or they'll face serious consequences.
Acting starts with companies understanding that there are external forces out there that can do serious harm to their bottom lines, and tracking risks accordingly. That doesn't have to mean creating Risk Mitigation departments—simply asking exploratory questions to identify risks and creating a spreadsheet to track them can put companies on the path to less risks and happier customers.
To experience the full discussion, click here.
---
Sources

Thank you for filling out our form.
By creating an account to access our gated information, you agree that you may receive communications from Alorica Inc., including its affiliates and subsidiaries, such as newsletters, special offers, and account reminders and updates. You also understand that you can remove yourself from these communications by clicking the "Unsubscribe" link in the footer of the actual email.