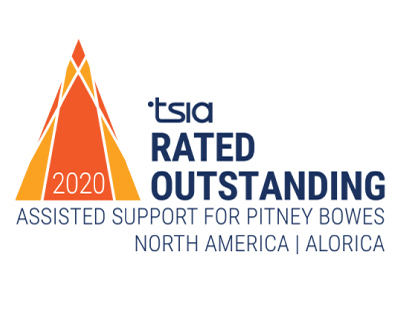 Alorica Achieves North America TSIA Rated Outstanding In Assisted Support Certification For Pitney Bowes
Customer Experience Leader Receives Industry Recognition for Technical Phone and Chat Support
IRVINE, Calif. – (May 12, 2020) – Alorica Inc., a global leader in customer experience solutions, has achieved North America TSIA Rated Outstanding Assisted Support certification for technical phone and chat support provided to Pitney Bowes Inc. customers. The Technology Services Industry Association (TSIA) is the leading association for technology services. This certification recognizes that Alorica meets the highest industry support operations standards for Pitney Bowes customers, enabling them to make purchases with confidence.
The Rated Outstanding Assisted Support certification, offered by TSIA, shows that Alorica's assistance has enabled Pitney Bowes to meet the highest industry standards for their North America Support operations. Pitney Bowes participated in a rigorous audit process that evaluated over 150 best practices for delivering industry-leading technical support.
Auditors conducted a thorough inspection of Pitney Bowes' organization and processes, reviewing important procedures and inspecting support outcomes. After the evaluation was complete, TSIA determined that Pitney Bowes assisted technical support processes through Alorica met or exceeded over 75 best practices criteria. The designation is further evidence that Pitney Bowes customers can rely on the company to deliver superior technical support including how it effectively handles phone, chat, and online support submissions.
"Alorica had to pass a rigorous onsite audit conducted by service executives with more than 20 years of experience," said Tom Pridham, VP & GM TSIA. "When customers see the TSIA North America Rated Outstanding Assisted logo, they can be confident that Alorica provided Pitney Bowes customers outstanding support and they have the people, processes and technology in place necessary to provide quality support."
To learn more about TSIA's Strategic Certifications, visit the TSIA website at TSIA.com. For more information about Alorica's service offerings, visit www.Alorica.com.
About Alorica
Alorica is a global leader in customer experience solutions. We are made up of 100,000 passionate problem solvers who make lives better through positive customer interactions—at every touchpoint—across voice, chat and social. Leveraging innovative technologies—including intelligent automation and a comprehensive analytics suite—we support the world's most respected brands with the best talent and resources necessary to create insanely great experiences. Alorica provides a host of world-class services—from customer care to financial solutions and digital services—to clients across industries of all kinds, many of whom are on the Fortune 500. Alorica contact centers and operation hubs span the globe with locations in 14 countries. To learn more, visit www.Alorica.com.
About TSIA
The Technology Services Industry Association (TSIA) is the world's leading organization dedicated to advancing the business of technology and services. Technology services organizations large and small look to TSIA for world-class business frameworks, best practices based on real-world results, detailed performance benchmarking, exceptional peer networking opportunities, and high-profile certification and awards programs. TSIA corporate members represent the world's top technology companies as well as scores of innovative small and mid-size businesses in four major markets: enterprise IT and telecom, consumer technology, healthcare and healthcare IT, and industrial equipment and technology.
Media Contact
Sunny Yu
Alorica Inc.
[email protected]
714.469.8385