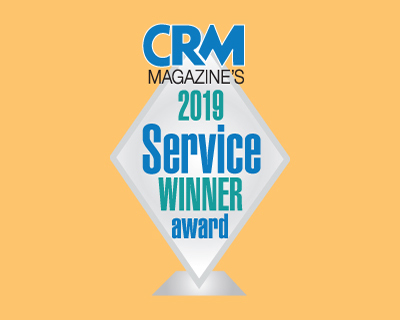 Alorica Nabs "Winner" Spot in CRM Magazine's 2019 CRM Service Awards
Leader of Customer Experience Solutions Gets Top Honor in the "Contact Center Outsourcing" Category
IRVINE, Calif. (March 29, 2019) – Celebrating two decades in business, Alorica Inc., a global leader in customer experience solutions, today announced it was honored with a "winner" delegation for Best Contact Center Outsourcing in the 2019 CRM Service Leaders Awards. Produced by CRM magazine, the CRM Service Awards, now in its 16th year, honors the leading vendors across nine customer service and contact center technology segments.
Alorica secured the top spot for its overall "stellar performance," earning a 4.2 score in company direction, a category-leading 4.0 score in customer satisfaction and another category-leading 3.8 score in cost. Ian Jacobs, a principal analyst at Forrester Research, noted about Alorica, it "has a healthy mix of verticals," including telecommunications, healthcare, financial services, and retail, "without being over-reliant on any single one. Its nearshore strength is growing right when demand for such services is rising." Rebecca Wettemann, vice president at Nucleus Research, chimed in, adding that Alorica "is experiencing strong growth based on its effective cost model and investments in U.S. contact centers."
"It's an honor to be recognized by CRM magazine and industry analysts for our continued efforts to build strong brand connections," said Greg Haller, Chief Operating Officer at Alorica. "Being bumped from a 'leader' to a 'winner' in a year's time speaks volumes to our ongoing commitment to deliver innovative and quality customer experience solutions to our clients, ultimately providing a powerful ROI to their business strategy."
Recipients of the CRM Service Leader Awards are determined through a proprietary ranking system based on the scores given by leading industry analysts and consultants for each vendor's deployment costs, customer satisfaction, breadth of services and company direction. Company financial data is also taken into consideration.
Alorica provides a powerful advantage for our clients in the pursuit to deliver insanely great customer experiences. Visit our website to learn how we can streamline operations, drive innovation and enhance your ROI.
About Alorica
Alorica is the world's largest provider of customer experiences to North American consumers. We are made up of more than 100,000 passionate problem solvers who make lives better through positive customer interactions—at every touchpoint—across voice, chat and social. Leveraging innovative technologies—including intelligent automation and a comprehensive analytics suite—we support the world's most respected brands with the talent and resources necessary to create insanely great experiences. Alorica provides a host of world-class services—from customer care to financial solutions and digital services—to clients across industries of all kinds, many of whom are on the Fortune 500. Founded nearly 20 years ago, Alorica contact centers and operation hubs span the globe with 130 locations in 14 countries. To learn more, visit www.Alorica.com.