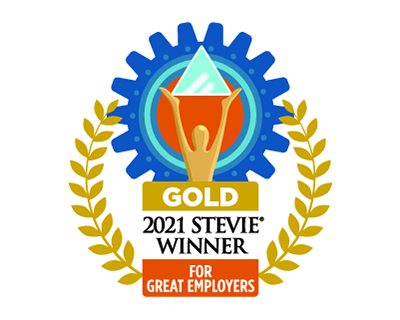 Alorica Recognized as Employer of the Year in 2021 Stevie Awards for Great Employers
Global CX leader wins Gold Stevie® Award for insanely great employee experience
IRVINE, Calif – August 30, 2021 – Alorica Inc., a global leader in customer experience (CX) solutions, has been named the winner of the Gold Stevie® Award for Employer of the Year in the Business & Professional Services category in the sixth annual Stevie Awards for Great Employers.
"This recognition reflects Alorica's deep-seated belief that our employees are at the heart of the company's success," said Andy Lee, Chief Executive Officer at Alorica. "As we continue to hire thousands of people globally, it's imperative that we maintain this unrivaled employee experience by creating the best environment for ongoing learning and career development. We don't take for granted the 100,000 Aloricans who choose Alorica as their employer every day, and we welcome passionate problem solvers looking to elevate their careers to join the family."
The Stevie Awards for Great Employers recognize the world's best employers and the human resources professionals, teams, achievements and HR-related products and suppliers who help to create and drive great places to work. With more than 950 nominations from organizations of all sizes in 29 nations, Alorica was honored to be chosen as the greatest business and professional services employer. More than 70 professionals worldwide participated in the judging process to select this year's Stevie Award winners.
Through its award-winning training programs, culture initiatives and constant feedback loop measured by its employee Net Promoter Score (eNPS), Alorica focuses heavily on employee engagement and performance. The organization is proudly comprised of many cultures, languages and backgrounds and views diversity as a core strength; more than 61% of its global workforce is women and nearly 70% of its US team is made up of minorities. And through its work-at-home solution—Alorica Anywhere—employees are offered additional flexibility and support, which includes gamified digital tools to help them improve their confidence, skills as well as KPIs. This Employer of the Year award demonstrates the company's commitment to its employees, which has resulted in increased employee satisfaction, lower attrition rates, and more leaders being promoted from within the organization year over year.
Alorica also embraces a family-like culture of inclusiveness and giving through its Corporate Social Responsibility, which includes the company's employee-led partnership with non-profit Making Lives Better with Alorica (MLBA), which has raised more than $6.5 million since 2015. In 2020, Alorica launched TIDE (Together for Inclusion, Diversity and Equity), its global social impact program that serves as a cornerstone for the entire employee experience. TIDE's Real Talk sessions provide an interactive forum for Aloricans to come together and discuss social issues that are most important to them and their communities—topics include gender bias, sexual orientation, discrimination and dismantling stereotypes.
This 2021 Stevie® Award is among several accolades Alorica has received since last year, including a 2021 Silver Stevie® Award for Minority-owned Business of the Year and a #16 spot on Comparably's Best CEOs for Diversity list. Additionally, the company was distinguished as a Global Outsourcing 100 for the seventh year in a row by IAOP for strategically hiring thousands of employees around the world from underserved communities. Alorica was also recognized by two of the leading industry analyst firms earlier this year. Gartner named Alorica a Leader in its 2021 Magic Quadrant for Customer Service BPO for completeness of vision and ability to execute; and NelsonHall named Alorica a Leader in its 2021 Social Media CX Services NEAT Assessment for Content Moderation, Trust and Safety.
Details about the Stevie Awards for Great Employers and the list of 2021 Stevie winners are available at www.StevieAwards.com/HR.
About Alorica 
Alorica is a trusted global leader in customer experience solutions. We are made up of 100,000 passionate problem solvers who make lives better through positive customer interactions—at every touchpoint—across voice, chat and social. Leveraging innovative technologies—including intelligent automation and a comprehensive analytics suite—we support the world's most respected brands with the best talent and resources necessary to create insanely great experiences. Alorica provides a host of world-class services—from customer care to financial solutions and digital services—to clients across industries of all kinds, many of whom are on the Fortune 500. Alorica contact centers and operation hubs span the globe with locations in 15 countries. To learn more, visit alorica.com. 
About the Stevie Awards
Stevie Awards are conferred in eight programs: the Asia-Pacific Stevie Awards, the German Stevie Awards, the Middle East & North Africa Stevie Awards, The American Business Awards®, The International Business Awards®, the Stevie Awards for Great Employers, the Stevie Awards for Women in Business, and the Stevie Awards for Sales & Customer Service. Stevie Awards competitions receive more than 12,000 entries each year from organizations in more than 70 nations. Honoring organizations of all types and sizes and the people behind them, the Stevies recognize outstanding performances in the workplace worldwide. Learn more about the Stevie Awards at http://www.StevieAwards.com.
Sunny Yu
Alorica Inc.
[email protected] 
# # #