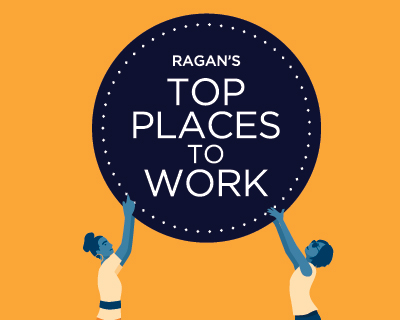 Alorica Wins Top Place to Work for its DEI-Focused Culture, Grassroots Philanthropy and Employee Development Opportunities
IRVINE, California, June 21, 2022—Alorica Inc., a trusted global leader in next-generation customer experience (CX) solutions, celebrated its 23rd anniversary with a win for Top Place to Work in the Large Employer Category from Ragan's Employee Communications and Top Places to Work Awards. Alorica was honored for its leading Corporate Social Responsibility (CSR) initiative dedicated to making lives better for its employees and their communities. As part of its CSR, the global CX provider empowers employees to engage in interactive social discussions, support local causes and take control of their careers.
"The key to Alorica's continued growth and success for the last 23 years is its unparalleled commitment to the employee experience," said Greg Haller, Chief Executive Officer at Alorica. "The best way to ensure exceptional service to our clients is by taking care of our people first. But it goes beyond that—it's the right thing to do. That's why we offer development programs at every level, ask local teams to identify causes and individuals they want to support in their communities and encourage Aloricans around the world to talk about issues that impact them the most. With our eNPS (employee satisfaction score) reaching 79 last quarter, exceeding the world-class standard of 70, we are committed to maintaining our reputation as the top place to work for our current and future employees."
Winning companies were selected based on their initiatives to champion a diverse workforce and provide resources and support to help employees grow and succeed in their careers. The judges recognized Alorica for "hosting Real Talk sessions to explore sensitive topics, supporting a nonprofit giving back to employees' communities and offering talent development for its entire workforce, making it a Top Place to Work in Ragan's Employee Communications and Top Places to Work Awards."
Alorica's global DEI program TIDE (Together for Inclusion, Diversity and Equity), serves as a cornerstone for the entire employee experience. TIDE's Real Talk sessions provide a forum for Aloricans to come together and discuss social issues that are important to them and their communities; topics include gender bias, sexual orientation, discrimination and dismantling stereotypes. With more than 61% of its global workforce being women and nearly 72% of its US team made up of minorities, diversity is celebrated and encouraged across the organization. Aloricans also have the decision-making power to donate to local causes and fellow employees and their families in need through the company's employee-led non-profit partner Making Lives Better with Alorica (MLBA), which has raised more than $7.3 million since 2015.
"It's our people who make Alorica a Top Place to Work," added Alorica's Chief Culture Officer & MLBA President Joyce Lee. "It's our employees' ideas, diverse backgrounds and collective commitment to doing good, not only for their careers but also for their communities, that make us insanely great."
Alorica's award-winning training and leadership development program, Alorica Academy, includes career pathing and development where employees can see where they are headed in their professional journey and even view the various tracks they can take depending on their interests and skills. This creates a clearer vision for their future at the company and allows employees to explore other areas beyond their current roles, resulting in increased employee satisfaction and lower attrition rates. Additionally, Alorica provides leadership skills training for all levels from onboarding to continuing education. This helps the company to promote leaders from within—just last quarter, Alorica promoted over 2,000 employees globally.
The Top Place to Work award is among several accolades recognizing Alorica for an exceptional employee experience, including the 2021 Gold Stevie® for Employer of the Year, 2021 Silver Stevie® Award for Minority-owned Business of the Year and 2021 Silver Best Place to Work in Best in Biz Awards.
About Alorica
Alorica creates insanely great digital customer experiences at scale. Our team of 100,000 solutionists, technologists and operators partner with global brands and disruptive innovators to deliver digitally-charged, tailored interactions customers crave. With a track record of creating long-term loyalty, Alorica brings actionable insights, proven processes and CX leadership to transform clients' business needs, whether they're focused on digital optimization, customer engagement or market expansion. Through strategic partnerships with best-in-breed technology, we design, integrate and optimize digital solutions personalized to reach clients' most desired outcomes now and for the future. Alorica drives CX innovation for the best clients around the globe from its award-winning operations in 16 countries worldwide. To learn more, visit www.alorica.com.