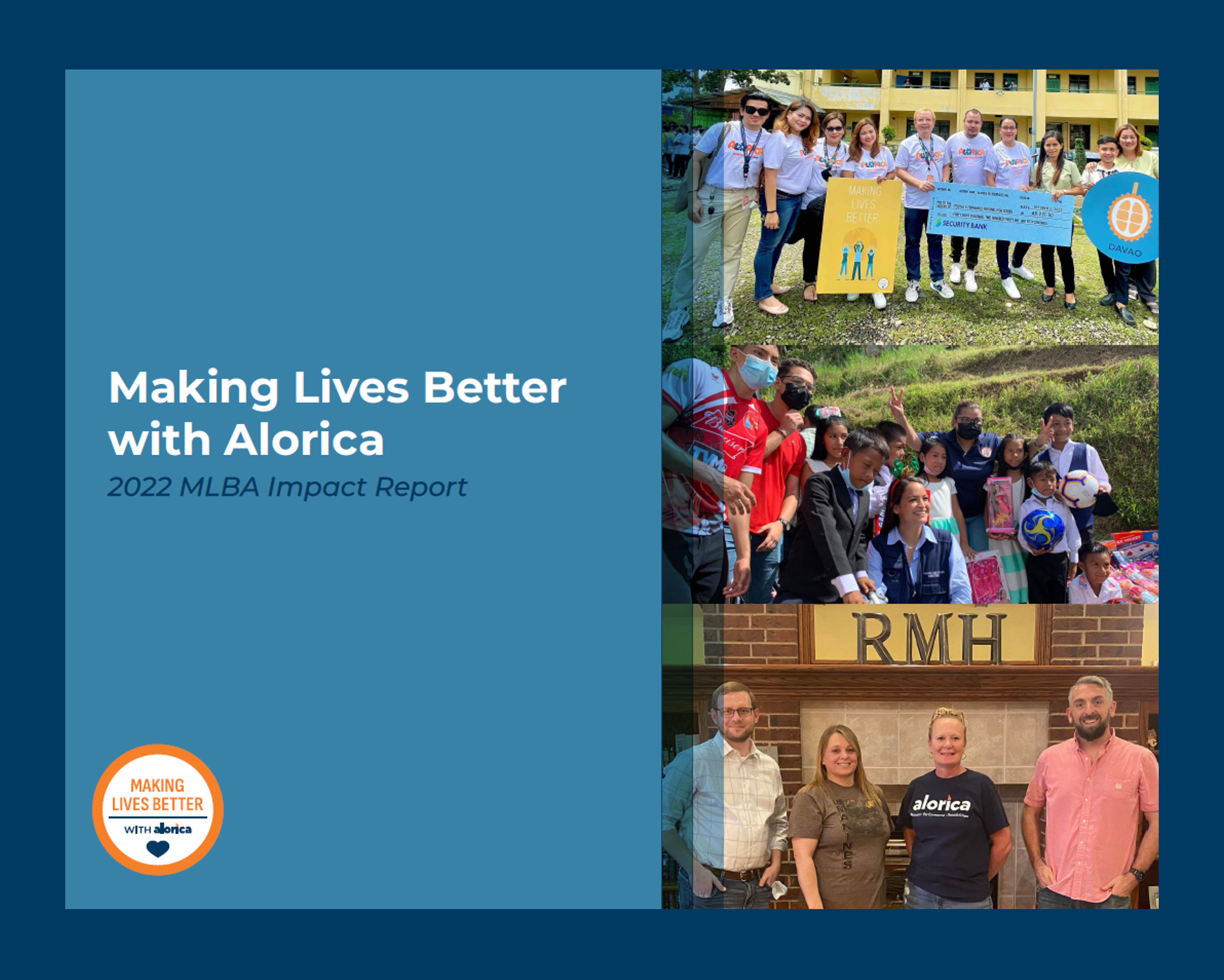 Nonprofit Fueled by Global CX Provider's Employees Highlights Year of Grassroots Philanthropy in 2022 Impact Report
Led by Alorica employees, Making Lives Better with Alorica (MLBA) awarded more than 1,000 grants to Aloricans and their communities in need with support for rent, medical bills, crisis relief and more
IRVINE, Calif., April 18, 2023— Making Lives Better with Alorica (MLBA), the non-profit partner to Alorica Inc., a global leader in next-generation customer experience (CX) solutions, recently released its 2022 MLBA Impact Report, highlighting a year of non-profit partnerships, grassroots fundraising and crisis relief. Alorica's support of MLBA is part of an ongoing commitment to empower employees to lead the company's Corporate Social Responsibility (CSR) initiatives, which includes programs under three pillars—People, Philanthropy and Planet. In 2022, 44% of eligible Alorica employees donated to MLBA, raising nearly $600,000 and awarding over 1,000 grants that totaled $800,000 to help team members, their families, communities and other local nonprofits around the world. When Hurricane Ian struck South Florida and Typhoon Noru hit the Philippines, Aloricans banded together to donate over $40,000 to help victims rebuild their lives.
Among MLBA's accomplishments in 2022 are earning Candid's coveted Platinum Seal of Transparency for the second year in a row—the highest level of recognition awarded to organizations who demonstrate a strong commitment to fiscal responsibility and transparency for donors worldwide. MLBA also expanded NextGen, its program for youth volunteers, to Guatemala, Mexico and Panama. NextGen inspires a spirit for giving in the future generation as well as teaches them valuable business skills as they lead their own charitable projects. MLBA gave $60,000 through its Inspiration Fund enabling 71 students, ages 11-18, to pursue their educational dreams by taking coding classes, purchasing laptops, attending dance camps and more.
In addition to fulfilling individual grants, Alorica employees work together to identify and raise money for local nonprofits that benefit causes that matter most to them. MLBA Alphaland in the Philippines partnered with the Kanlong Foundation, an NGO that serves children with disabilities, to sponsor 20 of their scholars with school supplies and hygiene kits. Our Puebla Chapter in Mexico put on a play to create awareness for violence against women and raised nearly $800 in funds to donate to the National Association Against Human Trafficking in Society. In Canada, MLBA Montreal supported a local charity called "The Welcome Collective" for a winter clothing donation drive to assist refugee families from Haiti, Democratic Republic of Congo, Syria, Colombia, and more.
"It's incredible to see what Alorica has accomplished through MLBA in 2022 and for the past 8 years since we started," said Joyce Lee, Alorica's Chief Culture Officer and MLBA's President. "I am extremely proud of the Alorica volunteers who have led our grassroots efforts to raise nearly $8 million, award over 12,000 grants and support 100+ charities since MLBA's inception. The company's unique approach to CSR is made possible because of our employees' compassion, tenacity and resourcefulness. They know their people and the local needs better than anyone. Through our culture of connection and empowerment, Alorica has been able to give to many communities in the most meaningful way. We're excited to continue sharing the love this year and beyond."
Alorica is MLBA's primary sponsor, providing administrative resources, logistics and personnel costs required to fuel the nonprofit. In turn, MLBA is an integral part of Alorica's larger commitment to CSR, which champions programs that align with the company's vision of making lives better, one interaction at a time®. For information on how to contribute or partner with MLBA, visit www.livesbetter.org/ways-to-help/.
---
About Alorica
Alorica creates insanely great digital customer experiences at scale. Our team of 100,000 solutionists, technologists, and operators partner with global brands and disruptive innovators to deliver digitally-charged, tailored interactions customers crave. With a track record of creating long-term loyalty, Alorica brings actionable insights, proven processes and CX leadership to transform clients' business needs, whether they're focused on digital optimization, customer engagement, or market expansion. Through strategic partnerships with best-in-breed technology, we design, integrate, and optimize digital solutions personalized to reach clients' most desired outcomes now and for the future. Alorica drives CX innovation for the best clients around the globe from its award-winning operations in 17 countries worldwide. To learn more, visit www.alorica.com.
About Making Lives Better with Alorica (MLBA)
Founded in 2015, Making Lives Better with Alorica (MLBA) is the global, non-profit partner of Alorica. Our approach to corporate philanthropy is like none other; while most companies handle charitable giving from the top-down, MLBA and Alorica empower its nearly 60 employee-led Chapters across the United States, Philippines, Mexico, Panama, Guatemala and Canada, to make lives better for local causes and individuals that matter most to them. To learn more, visit https://www.livesbetter.org/.
Media Contact:
Sunny Yu
[email protected]