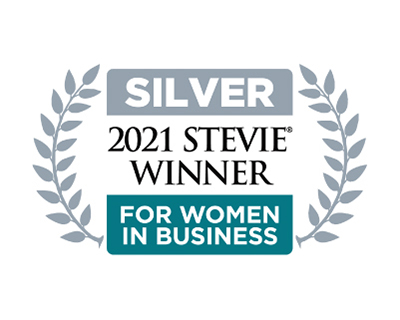 Alorica's Chief Culture Officer & Non-Profit Partner Recognized for Pandemic Relief in 2021 Stevie® Awards for Women in Business
Spearheaded by CCO Joyce Lee, Making Lives Better with Alorica Distinguished for Grant Funding, Charity Collaboration and Resource Coordination
IRVINE, Calif – Oct. 7, 2021—Alorica Inc., a  global leader in digital customer experience (CX) solutions, announced today that its Chief Culture Officer Joyce Lee and non-profit partner Making Lives Better with Alorica(MLBA), have been named a Silver winner in the 18th annual Stevie® Awards for Women in Business, recognized for "Most Valuable Non-Profit Response". Lee was honored for leading MLBA's efforts to provide pandemic relief through a culture of connection and empowerment, spanning grant donations, charity support and resource assistance.
"Alorica's program was a standout among this year's entries, demonstrating tremendous work and support for those impacted by the pandemic," said Maggie Gallagher Miller, President of the Stevie® Awards. "This campaign not only reached a large number of people, but empowered Alorica's staff to make a true difference in their communities. Making Lives Better with Alorica is a remarkable endeavor to be encouraged."
As the Founder and President of MLBA—a nonprofit led by Alorica employees—Lee initiated COVID-19 relief efforts to help recipients with essential needs, such as rent, water and utilities to prevent homelessness as well as to cover costs for medical care, groceries, sanitary supplies and funeral expenses for those who tragically lost loved ones. In 2020, the nonprofit raised nearly $867,000 in monetary donations, awarded 924 grants totaling $527,000, assisted 400+ families through crisis relief efforts, and supported 68 charities globally.
MLBA was also recognized for directly supporting a number of charities and organizations in the fight against COVID-19. This includes WeNeedMasks.org to combat supply shortages of PPE; Catchafire, where Aloricans could virtually volunteer with other nonprofits; the Red Cross to attract volunteers to donate blood; and Second Harvest Food Bank to host food distributions, among other organizations. Additionally, Lee led the charge in organizing an online information center for resources to help those in need take care of themselves, their families and their communities. This portal included federal, state, local and Alorica corporate assistance for necessities like food, utilities, unemployment benefits and healthcare.
"People turn to MLBA when they have nowhere else to go for help and unfortunately the pandemic became one of those situations for many people around the world," shared Lee. "I'm grateful that Alorica and MLBA were able to play a role in providing essential funds, critical resources and hope during these times. I'm constantly inspired and in awe of people's generosity, kindness, creativity and humanity especially when it matters most. This award is a recognition to all the #MLBAHeroes who contributed to make a difference."
The Stevie® Awards for Women in Business honor women executives, entrepreneurs, employees, and the companies they run—worldwide. More than 1,500 entries were submitted this year and judged by a panel of 160 business professionals from around the world.
Through its corporate social responsibility program, Alorica remains focused on initiatives supporting philanthropy, people and the planet. Lee's and MLBA's recognition in the Women in Business program follows Alorica's recent accolades as winner of the 2021 Gold Stevie® for Employer of the Year, the 2021 Silver Stevie® Award for Minority-owned Business of the Year and leader on Comparably's Best CEOs for Diversity list.
About Alorica 
Alorica creates insanely great digital customer experiences at scale. Our team of 100,000 solutionists, technologists and operators partners with global brands and disruptive innovators to deliver digitally-charged, tailored interactions customers crave. With a track record of creating long-term loyalty, Alorica brings actionable insights, proven processes and CX leadership to transform clients' business needs, whether they're focused on digital optimization, customer engagement or market expansion. Through strategic partnerships with best-in-breed technology, we design, integrate and optimize digital solutions personalized to reach clients' most desired outcomes. Alorica drives CX innovation for the most progressive clients around the globe from its award-winning operations in 15 countries worldwide. To learn more, visit www.alorica.com.

About the Stevie® Awards
Stevie® Awards are conferred in eight programs: the Asia-Pacific Stevie® Awards, the German Stevie® Awards, the Middle East & North Africa Stevie® Awards, The American Business Awards®, The International Business Awards®, the Stevie® Awards for Great Employers, the Stevie® Awards for Women in Business, and the Stevie® Awards for Sales & Customer Service. Stevie® Awards competitions receive more than 12,000 entries each year from organizations in more than 70 nations. Honoring organizations of all types and sizes and the people behind them, the Stevie®s recognize outstanding performances in the workplace worldwide. Learn more about the Stevie® Awards at http://www.StevieAwards.com.

Contact
Sunny Yu 
Alorica Inc.  
[email protected]   
# # #