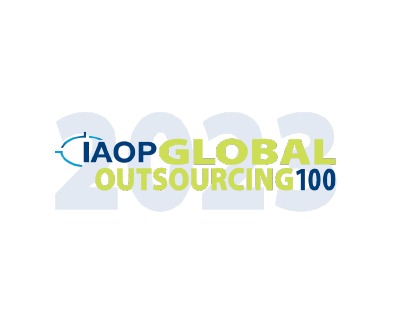 For the 10th Consecutive Year, Alorica Recognized on IAOP's Global Outsourcing List for 2023
IRVINE, Calif. – (Feb. 20, 2023) – Alorica Inc., a trusted global leader in next-generation customer experience (CX) solutions, today announced that it has been honored as a Leader in the International Association of Outsourcing Professionals' (IAOP) Global Outsourcing 100. This venerated list recognizes the world's best outsourcing providers across a wide range of industries. Alorica's inclusion in this year's list marks the 10th consecutive year the company has secured a top spot in The Global Outsourcing 100®.
"Alorica's ongoing inclusion in The Global Outsourcing 100 showcases the high-quality, scalable digital CX capabilities and award-winning culture that continue to position us as an industry leader," said Greg Haller, Chief Executive Officer at Alorica. "Being recognized in the Global Outsourcing 100 year after year underscores our ability to be the best strategic partner to our clients, delivering the outcomes that matter most to their business. With an incredible global team of solutionists, we continuously reinvent ourselves and help our clients do the same during times of growth and even uncertainty."
Now in its 17th year, The Global Outsourcing 100®showcases leaders and rising stars, as well as providers and advisors in one comprehensive list. Honorees are rigorously assessed in four judging categories (Customer References, Awards & Certificates, Programs for Innovation, Corporate Social Responsibility) by an independent panel featuring academics, industry leaders, IAOP's Strategic Advisory Board members, and IAOP customer members.
"In a year when service providers and advisors navigated new — or more intensified — challenges and disruption, the 2023 Global Outsourcing 100 demonstrated that they could and did rise to the occasion," said IAOP's CEO, Debi Hamill. "We are especially proud of these organizations that strived to excel, innovate, and pave the way in unprecedented times. Congratulations, Alorica on being included among the very best in the world."
This past year, Alorica earned top honors for its company culture and performance including a second Silver Stevie® Award for Minority-Owned Business of the Year, a second Great Place to Work® certification and a Top Place to Work in the Large Employer Category from Ragan's Employee Communications and Top Places to Work Awards in 2022. Alorica has also been named a Leader for the second consecutive year in the 2022 Gartner Magic Quadrant for Customer Service BPO.
---
About Alorica
Alorica creates insanely great digital customer experiences at scale. Our team of 100,000 solutionists, technologists, and operators partner with global brands and disruptive innovators to deliver digitally-charged, tailored interactions customers crave. With a track record of creating long-term loyalty, Alorica brings actionable insights, proven processes and CX leadership to transform clients' business needs, whether they're focused on digital optimization, customer engagement, or market expansion. Through strategic partnerships with best-in-breed technology, we design, integrate, and optimize digital solutions personalized to reach clients' most desired outcomes now and for the future. Alorica drives CX innovation for the best clients around the globe from its award-winning operations in 17 countries worldwide. To learn more, visit www.alorica.com.
About IAOP
IAOP is THE sourcing community, with collaboration at its core, that drives exceptional business and societal outcomes. Our members and affiliates worldwide are digging deep at IAOP conferences, learning at IAOP chapter meetings, getting trained and certified at IAOP courses and workshops, and connecting through IAOP social media, all with one goal: better business results. Whether you are a customer, provider or advisor, new to collaborative business models like outsourcing, or an experienced professional, IAOP connects you and your organization to our growing global community and the resources you need to get the results your company deserves and demands. For more information and how you can become involved, visit www.IAOP.org.
Media Contact:
Sunny Yu, Alorica Inc.
[email protected]