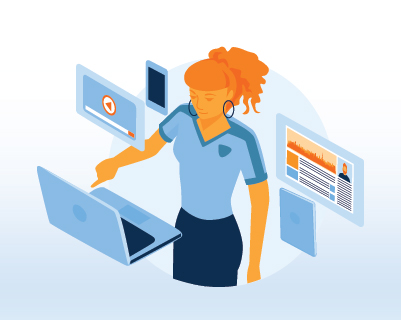 Alorica's Award-Winning Digital Solutions Boost Employee Speed-to-Proficiency for Enhanced Business Outcomes
Data-Driven Insights on Employee Engagement, Retention and Performance Fuel CX Innovation for In-Demand Brands
IRVINE, California, May 4, 2022—Alorica Inc., a trusted global leader in next-generation customer experience (CX) solutions, today announced its latest industry recognition—"Best Use of Technology in Customer Service" in the 2022 Stevie Awards—for its employee engagement digital solutions. This acknowledgment affirms Alorica's ability to attract, develop and retain best-in-class talent globally and at scale. By taking a continuous, data-driven approach to enriching employee development, Alorica's comprehensive portfolio of products, processes and technologies help leading brands execute on innovative CX strategies that achieve optimal business outcomes.
New employee onboarding often lacks engagement and clarity, a process made even more difficult by the shift to a work-at-home labor force. With a focus on workforce optimization, Alorica developed a digital, gamified web and mobile app — Alorica Connect — to create an engaging and accessible culture of connection with its 100,000 global employees, gather their feedback, and easily provide useful information right from the start. Connect supplies personal support to team members at scale, drives management decisions, and provides real-time transparency on performance, while building speed-to-proficiency and validating employee confidence. The app also captures and aggregates feedback on a broad range of listening posts to best understand how to drive desired results. More than 500,000 measurement touchpoints from Alorica's employees worldwide have been converted into actionable insights.
Sustaining this ongoing employee feedback loop is Hypercare, a comprehensive process fueled by analysis from Connect and other milestone surveys that improve performance and retention. Hypercare metrics unveil insights at individual, site and corporate levels to inform joint action plans focused on the most impactful areas of the employee experience. This approach creates better results in KPI, revenue and customer satisfaction for Alorica's clients. Since its inception, Hypercare has increased the company's employee satisfaction score, which was 79 last quarter, against the world-class standard of 70. The company has also seen an improvement of over 26% in attrition rate.
"Delivering insanely great customer experiences requires first creating an equally impressive environment for our employees," said Chief Administrative Officer Colleen Beers. "Our employees are those closest to the customer. So, their experience, performance and recommendations are crucial elements to helping Alorica listen, engage, improve and innovate for our clients. It is this consultative approach, powered by digital-first solutions, that allows us to achieve operational excellence and anticipate the future needs of our internal and external stakeholders."
The 2022 Stevie Awards for Sales & Customer Service recognized customer service and contact center organizations for their use of technology to directly improve customer service delivery, provide real business benefits, and show system adoption across the entire customer service function.
Alorica continues to stand out in the industry for its excellence in employee experience, digital innovation and strategic execution. Its employee-first approach has been consistently honored in key recognitions including: 2021 Stevie® Award for Employer of the Year, Comparably's 2021 Best Companies for Diversity and Best Companies for Women, the 2021 Best in Biz Awards, and 2021 Stevie® Award for Minority-owned Business of the Year. Alorica's leadership in technology, completeness of vision and ability to execute landed the company on Gartner's 2022 Magic Quadrant for Customer Service BPO.
---
About Alorica
Alorica creates insanely great digital customer experiences at scale. Our team of 100,000 solutionists, technologists and operators partner with global brands and disruptive innovators to deliver digitally-charged, tailored interactions customers crave. With a track record of creating long-term loyalty, Alorica brings actionable insights, proven processes and CX leadership to transform clients' business needs, whether they're focused on digital optimization, customer engagement or market expansion. Through strategic partnerships with best-in-breed technology, we design, integrate and optimize digital solutions personalized to reach clients' most desired outcomes now and for the future. Alorica drives CX innovation for the best clients around the globe from its award-winning operations in 16 countries worldwide. To learn more, visit www.alorica.com.
Media Contact:
Sunny Yu
[email protected]