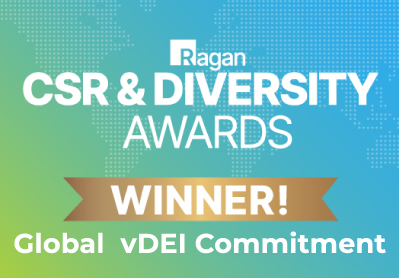 Alorica Wins Top Honor for Global DEI Commitment
Digital CX provider earns high marks for its inclusive practices to enhance the employee experience and drive operational excellence
IRVINE, Calif., October 19, 2023— Alorica Inc., a trusted global leader in next-generation customer experience (CX) solutions, has been awarded for its global Diversity, Equity & Inclusion (DEI) commitment in Ragan's CSR & Diversity Awards. Honored for its employee-powered TIDE (Together for Inclusion, Diversity and Equity) program, Women's Initiative and impact sourcing pledge, Alorica has been recognized again for its dedication to DEI as part of the company culture. The 2023 CSR & Diversity Awards celebrates inclusive campaigns and initiatives that make a substantial impact on underrepresented communities by prioritizing allyship with these communities, putting equity at the forefront of their hiring practices and launching unprecedented partnerships.
"As a global people-first company, focusing on Diversity, Equity and Inclusion is a foundational part of our values. To win the top award for our DEI commitment is something we're incredibly proud of and serves as a motivation for us to continue doing more," shared Greg Haller, Alorica's Chief Executive Officer. "Prioritizing DEI is the right thing to do, and we've seen great results from it including increased employee satisfaction, better collaboration across our workforce, higher performance and delivery for our customers as well as a positive impact on society."
Alorica is a certified Minority Business Enterprise (MBE) by the National Minority Supplier Development Council (NMSDC) and a three-time winner of the Silver Stevie® Award for Minority-Owned Business of the Year. The company's commitment to diversity resonates throughout its ranks including:
Almost 70% of its U.S. employees represent minority groups
Women comprise 60% of its total workforce; 46% of its global leadership is female
In 2022, Alorica promoted over 5,000 employees, more than half of whom were women
Through its Women's Initiative, Alorica offers employees the opportunity to hear from prominent female leaders, such as Best Buy's Chief Inclusion and Diversity Officer, Amelia Hardy, and Intuit's Head of Global Business Services & Chief Procurement Officer, Emma Chontos. Employees are empowered by these candid fireside chats to own their career journeys and take their place in the power seat.
"We've held over 150 Real Talk sessions where employees can learn about and discuss topics that matter most to them such as gender and racial stereotypes, mental health, LGBTQ+ identity and more," added Chief Culture Officer Joyce Lee, who serves as the Executive Sponsor for Alorica's TIDE. "Creating a safe and encouraging place where we can listen to our employees talk about these traditionally taboo topics at work has not only helped increase our overall employee satisfaction scores but has given employees the tools they need to better serve our equally diverse customers worldwide."

Alorica's award-winning culture continues to enable the company's industry-leading performance. Recent accolades include:
---
About Alorica
Alorica creates insanely great digital customer experiences at scale. Our team of 100,000 solutionists, technologists and operators partner with global brands and disruptive innovators to deliver digitally charged, tailored interactions customers crave. With a track record of creating long-term loyalty, Alorica brings actionable insights, proven processes and CX leadership to transform clients' business needs, whether they're focused on digital optimization, customer engagement or market expansion. Through strategic partnerships with best-in-breed technology, we design, integrate, and optimize digital solutions personalized to reach clients' most desired outcomes now and for the future. Alorica drives CX innovation for the best clients around the globe from its award-winning operations in 18 countries worldwide. To learn more, visit www.alorica.com.
Media Contact:
Sunny Yu, Alorica Inc.