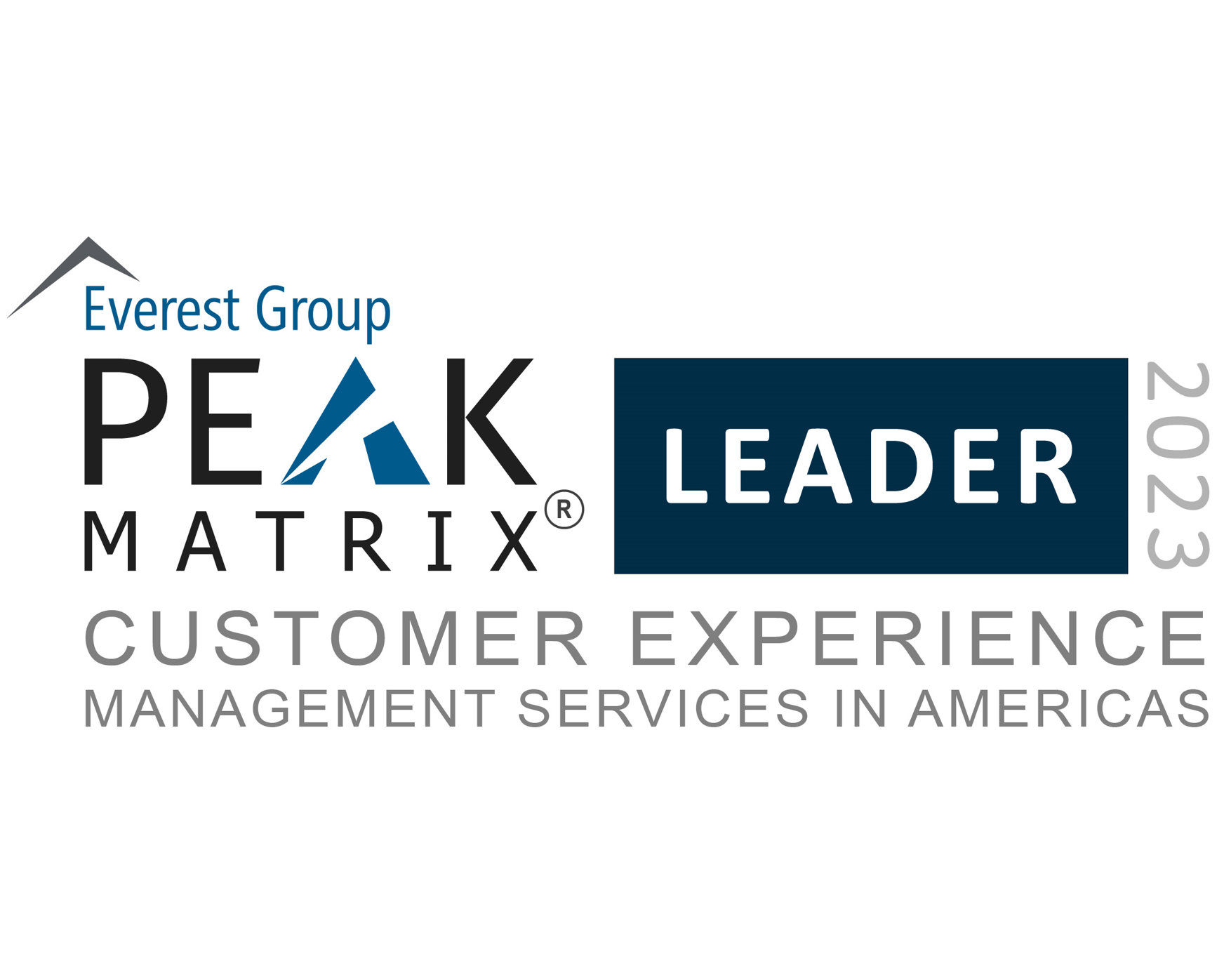 Alorica Named a Leader in Everest Group's Customer Experience Management (CXM) in the Americas 2023
Alorica Positioned as a Leader in the 2023 Everest Group Customer Experience Management Services PEAK Matrix® Americas Assessment for Second Consecutive Year
IRVINE, Calif., Oct. 4, 2023—Alorica Inc., an award-winning, global provider of next-generation customer experience (CX) solutions, has been named a Leader for the second consecutive year in the Everest Group Customer Experience Management (CXM) Services PEAK Matrix® Americas Assessment 2023. As one of only six in the Leader category out of 39 CXM providers, Alorica has been distinguished for its tech-enabled CX solutions, including recognition for Alorica IQ, its dedicated digital practice, and its comprehensive suite of Financial Solutions offerings that help companies elevate their brand experience by leveraging AI/ML automation, analytics, and emerging technologies.
"Recognition as a CXM Services Leader by Everest Group for the second year in a row underscores Alorica's investments in building a best-in-class team and designing innovative technologies and services to lead the industry forward," stated Greg Haller, Alorica's CEO. "Alorica's approach, as recognized by Everest Group and hundreds of our clients, has been to guide brands to be ready for the future state of CX by implementing a transformative digital model."
Specific Alorica strengths called out in the assessment include:
Outcomes delivered for clients rooted in vision and strategy, customer relationships, delivery footprint, flexible service delivery and ease of doing business
Robust talent management model reinforced with proprietary platforms that support its 100,000 employees around the world
Alorica IQ, digital solutions in AI analytics, contact optimization, intelligent automation, and emerging technologies such as generative AI, AR/VR and metaverse
Technology innovation such as Alorica Clear, an AI-driven linguistic processing platform to enhance voice delivery, and Alorica Life, a metaverse innovation center for expanding immersive learning and digital recruitment
Targeted solutions like Alorica Experiences Practice, Alorica Analytics, Alorica Automation, and Alorica On-Demand to enable discovery, customer engagement, operational efficiency, business continuity, risk mitigation and market intelligence
Focused service lines offering vertical expertise, including Financial Solutions, a comprehensive platform for end-to-end loan servicing, risk management and fraud prevention
Expertise in solutions for telecom, media, technology, BFSI (banking, financial services and insurance), retail, energy, travel & hospitality and public sector
Strong partner ecosystem including Google, Microsoft, Genesys, UiPath, Sanas, and CallMiner to augment its digital tool library and proprietary offerings in automation, advanced analytics, speech analytics and learning management solutions
To learn how a Leader delivers exceptional CX outcomes, click here for the full Everest Group profile on Alorica. Everest Group's PEAK Matrix Assessments provide comparative evaluations of providers, locations, products, and solutions. For the Americas assessment, providers were evaluated based on technology capabilities/functionality, talent resources, market success/impact, and cost. Leaders were noted for consistent delivery of CXM services, client portfolio growth with high client satisfaction scores, access to a skilled talent pool, and better innovation and transition management in their engagements. Major organizations worldwide trust the group's unbiased evaluation of factors.
"Businesses are increasingly prioritizing customer-centric strategies and AI's relevance in CXM, ushering in an era of hyper-personalization and enhanced customer engagement, ultimately shaping the future of CXM," said Shirley Hung, Partner, Everest Group. "Through capabilities such as a dedicated digital practice, robust talent management models, comprehensive suite of financial solutions, and a strong partner ecosystem with technology providers, Alorica provides an outcome-driven approach with targeted solutions to drive clients' business objectives including growth discovery, customer engagement, operational efficiency, business continuity, risk mitigation, and market intelligence. This all has enabled it to be recognized as a Leader in Everest Group's Customer Experience Management (CXM) Americas – PEAK Matrix® Assessment 2023."
---
About Alorica
Alorica creates insanely great digital customer experiences at scale. Our team of 100,000 solutionists, technologists and operators partner with global brands and disruptive innovators to deliver digitally charged, tailored interactions customers crave. With a track record of creating long-term loyalty, Alorica brings actionable insights, proven processes and CX leadership to transform clients' business needs, whether they're focused on digital optimization, customer engagement or market expansion. Through strategic partnerships with best-in-breed technology, we design, integrate, and optimize digital solutions personalized to reach clients' most desired outcomes now and for the future. Alorica drives CX innovation for the best clients around the globe from its award-winning operations in 18 countries worldwide. To learn more, visit www.alorica.com.
Media Contact:
Sunny Yu, Alorica Inc.