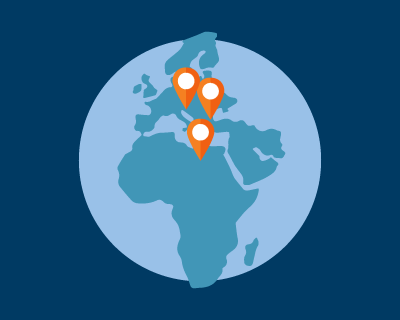 Alorica Launches Operations in Egypt and Poland
IRVINE, Calif.— January 24, 2023—Alorica Inc., a trusted leader in next-generation customer experience (CX) solutions, today announced its expansion plans into Africa and Europe through the launch of its operations in Cairo, Egypt and Łódź, Poland. As one of the largest business process outsourcers (BPO) globally with 100,000 employees across 17 countries and 24 years of CX experience—Alorica continues to scale and diversify its best-in-class workforce, now with a presence in these new markets. Setting up operations in Egypt and Poland further enables the digital CX company to meet the growing expectations of multinational companies to deliver industry-leading business outcomes including multilingual customer care, revenue generation, content management & content moderation, tech support and CX consulting. Alorica plans to open for business in both countries during second quarter of this year.
"Growth through Africa and Europe is key to our strategy of offering culturally and linguistically relevant support to well-established and emerging businesses worldwide," said Greg Haller, Chief Executive Officer at Alorica. "Egypt and Poland have been on our radar as robust commercial markets with a strong talent pipeline. Our new operations will unlock career opportunities for local residents and create a distinct path to extend our solutions to clients in the region."
With the expansion into Egypt and Poland, Alorica continues its investment into high-growth markets with scalable talent. Its experienced workforce offers CX support in over 30 languages to service brands in high-demand industries ranging from financial services, technology, travel & hospitality to e-commerce and retail among others. With existing operations of 1,000+ employees in Sofia, Bulgaria, the company will continue to leverage its innovative technologies to engage employees and customers through a combination of its work-at-home and on-site programs.
In Cairo, Alorica's new contact center is strategically located in Sheikh Zayed City near top private universities, while its site in Łódź, Poland is in the heart of the city near Warsaw—accessible to high-caliber candidates. Both locations are equipped with numerous onsite amenities—accessible transportation, public services, retail stores, and more—while providing maximum efficiency for both brick-and-mortar and work-at-home operations that appeals to a multicultural and multilingual workforce.
Rooted in a people-first foundation, Alorica focuses on employee engagement as a critical driver of performance. The company prides itself on its socially responsible and inclusive work environment, which has resulted in record high employee satisfaction scores. A pioneer in versatile operating models that fosters flexibility, Alorica offers jobs around the globe across state-of the-art contact centers as well as through its work-at-home solution Alorica Anywhere and hybrid Connection Hubs—serving as important channels to link teams for collaboration, training and continuous improvement.
"Leveraging Alorica's global scale and deep experience, we will provide localized service delivery to companies here in the region, while also enhancing EMEA's reputation as the top outsourcing destination for customers everywhere," said Alorica's EMEA President Matt Sims. "I'm excited to bring Alorica's mission-driven culture to Egypt and Poland as we hire and develop talented individuals from diverse backgrounds who are passionate about making lives better. As part of our corporate social responsibility, we are committed to not only doing business in the region, but also making an impact through our philanthropic work, people-focused programs and sustainability initiatives, benefiting the communities where our employees live and work. We're looking forward to creating many jobs in these countries."
The company continues to receive industry honors for its world-class vision and operational excellence—having been named a Leader in the 2022 Gartner Magic Quadrant for Customer Service BPO for the second consecutive year. Alorica has also garnered recognition as an employer of choice for its purposeful culture and employee engagement, winning awards such as Top Places to Work, Employer of the Year and Best in Biz, while also earning Great Place to Work® certifications for its operations in the Philippines and Guatemala.
To learn more about Alorica's insanely great CX services in EMEA, email us at
[email protected]
.
---
About Alorica
Alorica creates insanely great digital customer experiences at scale. Our team of 100,000 solutionists, technologists and operators partner with global brands and disruptive innovators to deliver digitally-charged, tailored interactions customers crave. With a track record of creating long-term loyalty, Alorica brings actionable insights, proven processes and CX leadership to transform clients' business needs, whether they're focused on digital optimization, customer engagement or market expansion. Through strategic partnerships with best-in-breed technology, we design, integrate and optimize digital solutions personalized to reach clients' most desired outcomes now and for the future. Alorica drives CX innovation for the best clients around the globe from its award-winning operations in 17 countries worldwide. To learn more, visit www.alorica.com.
Media Contact:
Sunny Yu, Alorica Inc.
[email protected]